Atlanta Riding Vaulting and Introduction to Horsemanship Program                          All Riders Ages 8-10- Young riders start out in Introduction to Horsemanship classes covering safety, horse care, equipment and other essential topics. The first four classes will be unmounted classes before the rider progresses to six months of vaulting and then to traditional mounted lesson.
Equestrian Vaulting is gymnastics on horseback. Riders ages 8-10 start in six months of vaulting lessons to develop balance and the ability to follow the motion of the horse without relying on reins before moving to traditional lessons. Vaulters practice on a barrel learning the four required movements before progressing to freestyle and even pairs on horseback. Vaulting classes are every other Monday and Wednesday at 4pm or 6pm.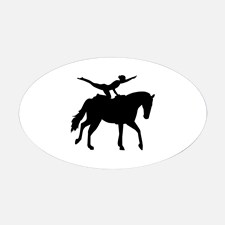 Horsemanship classes are $25 each.                                                                            New riders will start with four unmounted horsemanship classes.
Vaulting classes are $45. ea.                                                                                        All riders ages 8-10 will do six months of vaulting prior to riding with a saddle and bridle.
Traditional Riding Lessons are $65 ea after the rider completes vaulting.